Here I am with my Oud in Japan. I've visited Japan a few times since 2010, and this is the first time I dared to bring my Oud to Japan.
I decided that on this trip I would contact some Japanese middle eastern musicians this time because…
hey, there are A LOT of Darbuka, and Oud players there…
And, why not…
So here's the short of how it went:
Oud in Japan: Meeting Musicians in Osaka
I had connected with some Japanese musicians on Facebook.
I was lucky enough to arrange a meeting at a music rehearsal space in Osaka.
At first I thought I was just meeting one person, but he ended up inviting a small entourage.
I met three Oud players, a Tombak player, a Biwa player, and my contact who plays Bendir.
The Tombak player had a couple pieces of sheet music and two of the tunes were Persian. The Oud players were curious to learn them.
So we ended up playing a few obscure Persian tunes together.
One of the Oud players had a Turkish Oud made by Yildirim Palabiyik. It was an amazing instrument. Perfect playability, and perfect sound. This is the first time I've played one. I'm going to get one for Arabic tuning this year.
Presenting the Oud at Kobe University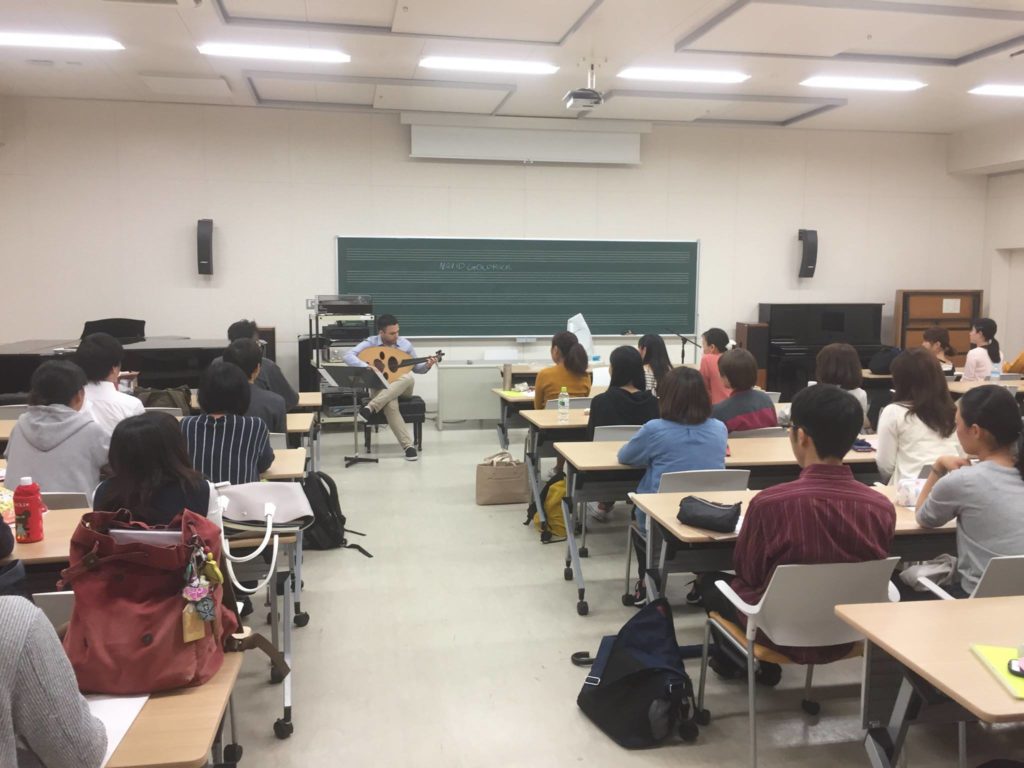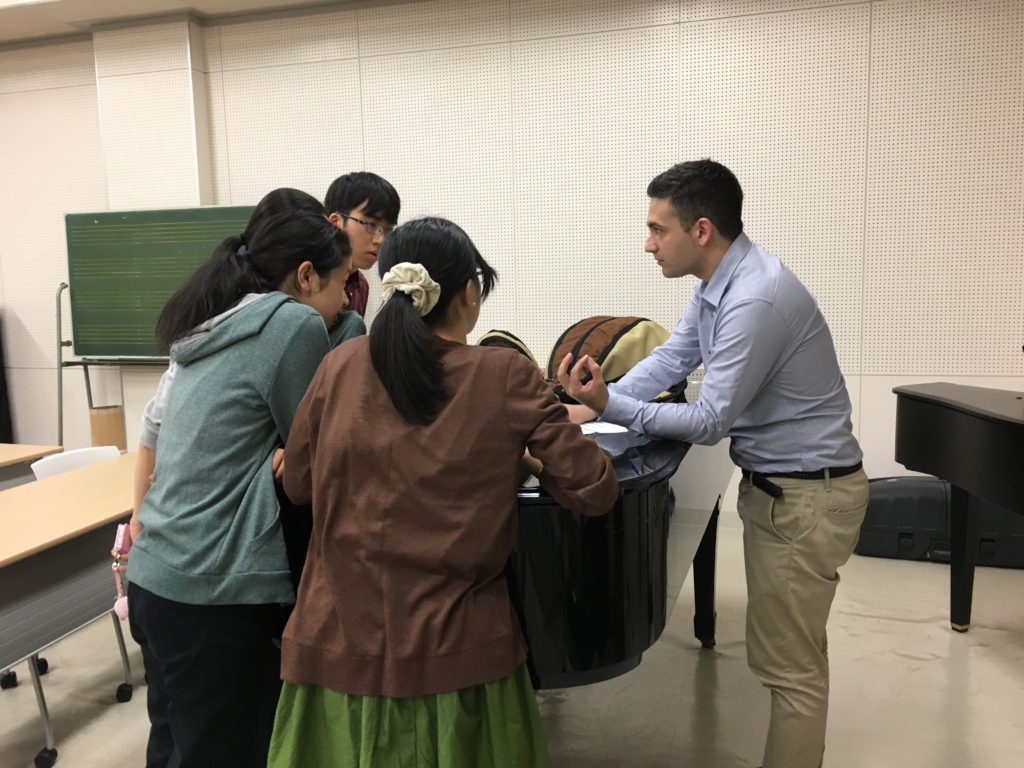 I was fortunate to come to know a Japanese Professor Masato Tani who is fluent in Farsi and a very talented Persian musician (a Santour player). He teaches ethnomusicology at Kobe University and he teaches Farsi at other Universities in Kyoto.
I have been contacting him repeatedly over the last year as I wanted to know more about his work in Japan.
Anyway, I wanted to meet him at his convenience, and it ended up by coincidence that he was teaching ethnomusicology and casually asked if I would like to join the class to demonstrate and talk about the Oud.
It ended up being a really great opportunity to engage with Japanese students and expose them to the Oud.
I performed a few tunes, and talked about the instrument and how it is distantly related to Japan through the Japanese Biwa.
I discussed Maqams and microtones in Arabic music, and even had a chance to discuss the differences between Middle Eastern music and Western Pop music. I think the students were surprised to hear that I was familiar with some Japanese pop artists like Kyary Pamyu Pamyu and WANIMA. Mentioning these names was a good way to engage them with something they are already familiar with.
The students had questions about musical notation for the Oud, and I invited one of the violin players to try holding and playing the Oud.
If you haven't travelled to Japan, I highly recommend it.
Back in Vancouver
I am now back in Vancouver and continuing my work on my new Taqasim program. I am currently struggling with jet lag and notating original taqasim for the program.
I'll be updating you on my progress with the program weekly, so sign up for the Oud for Guitarists newsletter to learn more about taqasim.
Sign up for the newsletter!
Click here to sign up to get the Free Ultimate Beginner's Guide Email Course