I always had a hard time understanding Maqam Lami.
It sounded so strange to me, and I didn't find it interesting.
I knew some well known songs in Maqam Lami, but it still wasn't sticking.
Fortunately, Simon Shaheen used Maqam Lami in one of his ear training sessions at the Arabic Music Retreat…
Then it all started to make sense.
I took what I learned from his method and created some of my own exercises inspired by his style. I'm really excited to share this material with you. You've never seen anything like this shared online before.
I guarantee if you use this video the way it is intended, you will have learned a new maqam today.
In this video, you'll learn using a teaching method I learned at the Arabic Music Retreat in Simon Shaheen's ear training lessons. So this stuff is really where it's at.
They are designed to help you internalize the maqam and learn the basic melodic developments.
If you like this learning method, I have 6 more ear training modules available.
Starting today, I am upgrading the Maqam Mastery Program to include 7 of these ear training modules complete with notation and audio.
My original ear training materials included in the Maqam Mastery Program are similar, but I find the new method I learned to be more repetitive and drives the essence of each maqam into you.
When you purchase the Maqam Mastery Program this weekend, you'll get the 7 ear training modules free in addition to the original content of the Maqam Mastery Program.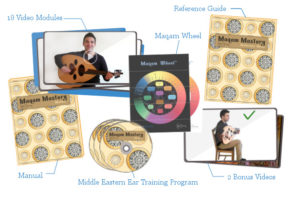 Offer ends, Monday September 26, 12 AM Pacific time. Afterwards, the price of the Maqam Mastery Program will increase.
In the meantime, I hope you enjoy this free ear training video. I have also recorded audio for practice and the notation for download below.
Click here and we'll email you your Maqam Hijaz ear training notation and audio.