Looking to buy an Oud?
There is a lot of information about Ouds out there, and it is all over the place.
So I decided to put it all in one place here with pictures and infographics and call it the Ultimate Oud Buyers' Guide!
Whether you are entering the world of Ouds or you have played it for some time, read this 5-part Ultimate Oud Buyers' Guide (not sponsored by any makers or shops) before you buy.
The Ultimate Oud Buyers' Guide will cover the following topics in detail:
Part 1: Types and Characteristics of Ouds
Part 3: How to Buy an Oud in a Foreign Country
Already have an Oud? Start learning how to play it here!
So let's get started!
Part 1: Types of Ouds
The first step that one must take in order to enter the world of the Oud is to decide which type of Oud he or she wants to wield.
It is your weapon, it is your staff, it is your wand. The sound it makes creates your identity as an Oud player.
Are you the sound of the desert sand dunes? Or are you the sound of charging horses galloping across green steppes?
These are the many colours and flavours of the Oud which you can achieve. There are many choices to choose from. The Oud has evolved over many thousands of years, and it took sometime before even I could understand the differences between different types of Ouds.
Below is a general outline of the types of Ouds by region and style. This information will give you what it took me years to discover.
Arabic Ouds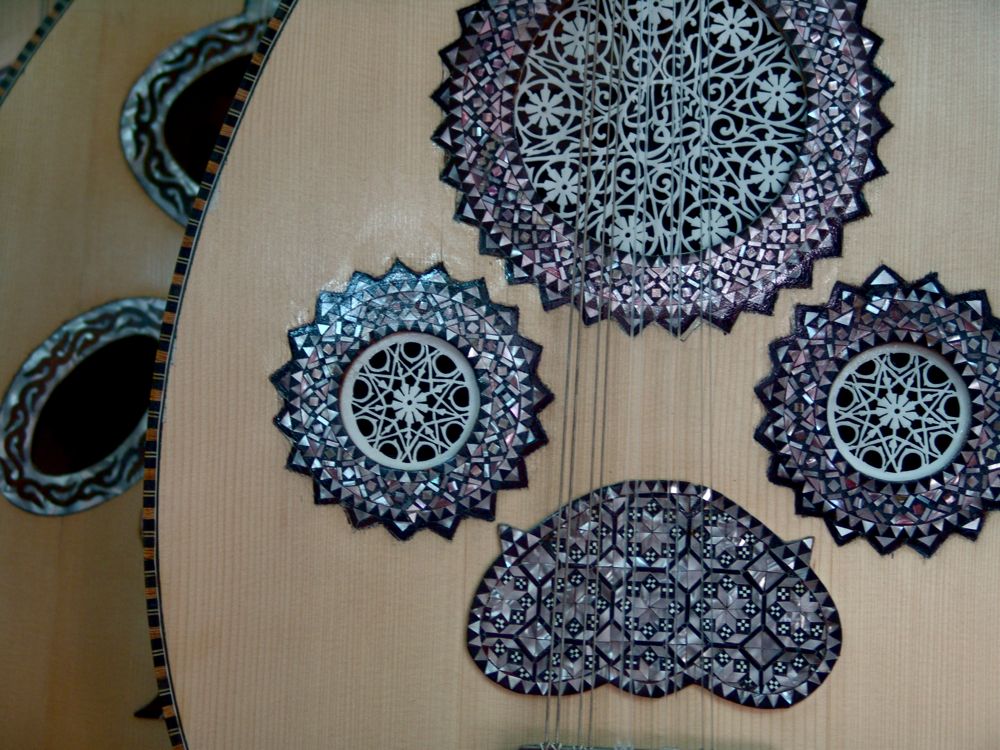 Where:
The most common type of Oud is an Arabic Oud. It is used in North Africa, Palestine, Lebanon, Jordan, Syria, Iraq, the Arabian Peninsula, and Iran.
Sound:
The Arabic Oud is the most romantic sounding of all the Oud types. It has a deep, round, and well-balanced sound. The highest strings cut through and stick out through an ensemble, and the bass strings give a nice smooth rumble. It typically features shorter sustain, and this is preferred by Arab players.

Construction: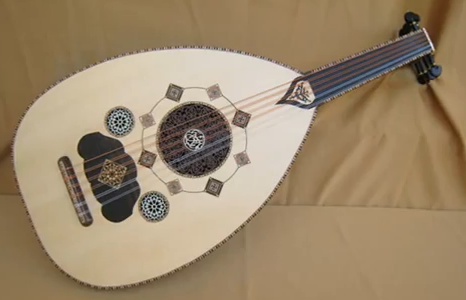 The Arabic Oud has many forms. In general, an Arabic Oud is usually between 61-62 cm from the bridge to the nut. One or three sound holes are common, which are usually adorned with rosettes. They can be made out a mix of different types of woods. The soundboard is thicker than Turkish Ouds in comparison.
The Oud may be ornate or simple. There is a lot of variation in style and design in these Ouds, but the bowl shape is large and round creating a deep mellow tone. The pegs are the same as all Ouds, friction style similar to Violin pegs.
Most models now hold five double course nylon strings with a single low bass string for a total of 11 strings. It is possible to find 10 string Ouds and 12, but 11 string is the norm.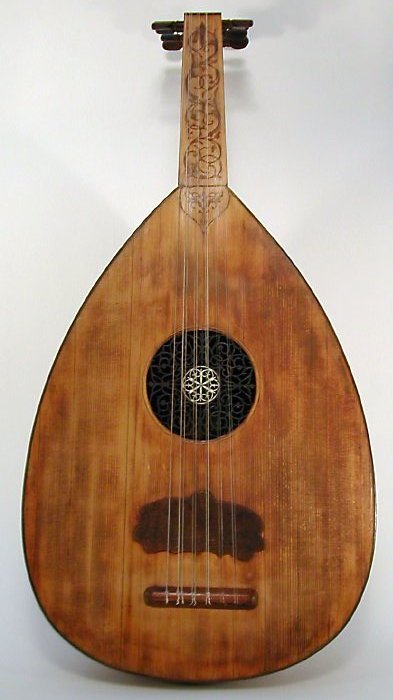 Turkish Ouds
Where:
The Turkish Oud is a totally different breed of Oud with different construction and unique sound. They can be found primarily in Turkey and Greece.
Sound:
I didn't mention charging horses for nothing. Here it is. The Turkish sound is filled with action and brightness. It is tuned a whole step higher than the Arabic Oud. It produces a longer sustain than Arabic Ouds, and definitely cuts through an ensemble. There is higher tension in the strings and a thinner soundboard producing sound in the middle and high frequencies. It is easy to hear vibrato in these Ouds.
Construction:

Turkish Ouds are fairly easy to spot. It is not always the case, but the soundboard is very rarely coated. It is usually a very light wood colour most likely due to use of spruce. The fingerboard and soundboard are usually flush. Where the fingerboard joins the soundboard, there is a small ornament that looks like an extension of the fingerboard that joins to a point as the picture to the right.
This is a very general ornament that might tell you immediately what kind of Oud you are looking at. However, some Arabic Ouds have this ornament as well.
Turkish Ouds are slightly smaller than their Arabic counterparts. They are about 58.5 cm in length from the bridge to the nut.
An important factor about Turkish Ouds is that factory made Turkish Ouds are more reliable than factory-made Arabic Ouds. It is possible to get a decent Turkish Oud under $500. That being said however, these still may not be long lasting, as the thinner soundboard tends to decrease the lifespan of the Oud. But the bright, clear sound is the preferred sound in Turkish Ouds. Turkish Ouds usually come with three sound holes that are slightly smaller than Arabic Ouds' sound holes and are usually adorned with rosettes. The numerous Oud builders and mass production of Ouds in Turkey have led this market to be quite competitive, and it is easy to find a decent Oud at low cost from Turkey.
Iraqi Ouds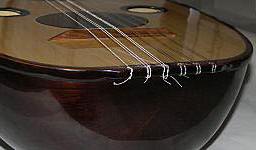 The Ouds you find in Iraq are also part of the Arabic family. In the last century a new design was developed by Mohammed Fadel Hussein. This Oud features a floating bridge, similar to Mandolin and Irish Bouzoukis. It also usually features oval sound holes without rosettes. These along with other construction differences creates an Oud with a unique sound. Some say it is more similar to a guitar in that the middle range frequencies come out creating a clean and full sound. Nowadays, this style of Oud is built by all Oud builders. You can find low cost floating bridge Ouds from most Oud factories.
If you want a higher end floating bridge Oud, all the best Luthiers offer these models as well.
Iranian Ouds
In Iran there are two types of Ouds. The first is the Arabic Oud, which is tuned in the same way and more comparable in sound to the Arabic Oud than the Turkish Oud. The second type is called Barbat. It is gaining more popularity because it is a reinvention of the ancient Barbat that was used in Iran before the Islamic conquest. It is believed to be the predecessor of the Arabic Oud and is now made by many Luthiers in Iran. There are several types of Barbat worth mentioning:
Ghanbari Barbat by Mohammadi Brothers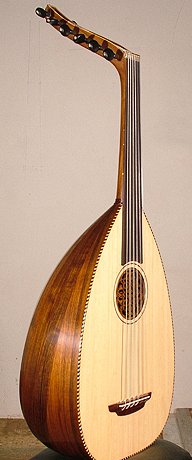 Skin top Barbat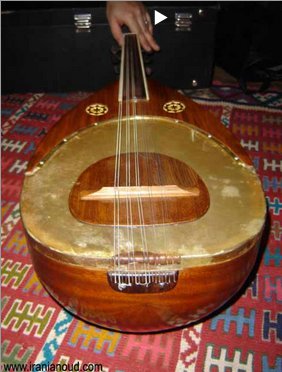 Arafati Barbat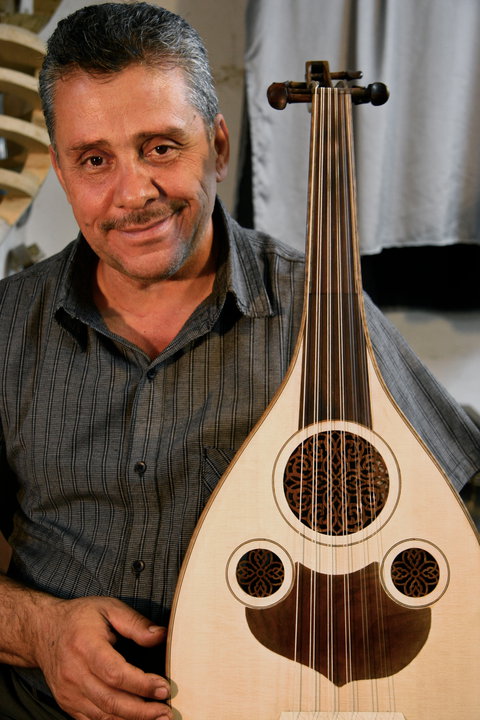 Sound:
At first, the difference between Arabic Oud and the sound of the Barbat might be difficult to distinguish in audio recordings.
The Barbat usually consists of five paired courses, but six paired courses can be ordered as well. The low bass strings are punchy and clear. They are thick sounding and sound more full than that of Arabic Ouds' bass strings. The middle range is also very clear and very clean. I find that the high strings and the notes in the high register is clean and clear but lacks the same fullness and attack that is present in Arabic Ouds. The sound is more airy.
All around this is a mellower beast than its Arabic counterpart. It is quite good for Persian music and ensemble work because it mixes well in a Persian ensemble. Hossein Behroozinia has helped reestablish the Barbat in traditional Persian music. This is what a Barbat sounds like.
Construction:
The Barbat has a smaller bowl than both Arabic and Turkish Ouds. The bowl may be slightly deeper than other Ouds. The bowl is shaped such that it reveals more of the neck allowing easier access to higher notes on the finger board. On Arabic Ouds and Turkish Ouds, the bowl meets where the 5th note of each string is located on the fingerboard, whereas the Barbat bowl reaches to the 6th note.
Electric Ouds
Electric Ouds are a new creation that have been designed in multiple forms. There are a few Oud builders that make them now.
There isn't much that is special about these Ouds except that you can plug them in and go nuts. Which may be exactly what you're looking for.
Most are solid body, but one Electric Oud created by Godin guitars is attracting a lot of attention because of the excellent sound, playability, and electronics that you can work with.
If you are curious, read our Godin MultiOud Review.
Before you go electric, it's good to remember that…
If you are a traditionalist, or like a warm sound, this is probably not the way to go. But if you play more electric music and want to experiment with different sound effects and don't want to spend a lot of money, an electric Oud of some kind may be the right choice for you.
Sound:
When it comes to sound on electric Ouds, it is really up to you and the equipment you have at your disposal. But do not expect a true traditional Oud sound. This also holds true for the flatback Godin MultiOud. It closely resembles the Turkish Oud, but lacks the deep, full sound that only a true bowl and traditional soundboard can create.
Some Luthiers like Dmitri Rapakousious also have their own flatback electric Oud models that are both acoustic and electric, which give a more authentic sound when played acoustically and electrically. However, the Godin MultiOud has exceptional electronics.
Oud Comparison
The following is a very basic beginner guideline. Every Oud will sound different, and every Oud builder creates a unique sound.
If you want a well-balanced Oud sound with a combination of deep bass, warmth and versatility, perhaps an Arabic Oud is a good choice.
If you want a unique sound and an Oud with a little more sustain, the Turkish Oud is a good idea. Keep in mind, most modern Turkish Ouds, with the exception of custom Faruk Turunz Ouds have a thin soundboard in comparison to Arabic Ouds. This may make them more delicate, or shorten their lifespan depending on how rough you are with it. Many Turkish Luthiers make custom Arabic Ouds as well.
If you have a very unique taste and are looking for something mellow that doesn't sound like any other Oud out there, you might want to consider looking into a Barbat. However, a Barbat may be the most expensive and hard to come by, but it may be exactly what you're looking for. If you do find yourself in possession of a Barbat, you will have a one of a kind instrument that was made with superb and beautiful craftsmanship.
What You Need to Know Before Buying
You must choose carefully when buying an Oud because it may take you a while to find, choose, locate/ship. Once you get your Oud you must be happy with it.
I first recommend that you go back to the first recording of Oud that you fell in love with and find out what style of Oud that is. This will help you narrow your quest to find the right Oud considerably.
Then I recommend going on YouTube and listening to all kinds of Oud players out there; Turkish, Arabic, Iranian, old school players, modern players… whatever. Find the sound you like.
After you find out what kind of Oud you want to play, decide what your budget will be. This will help you determine where to go for your next Oud.
Later articles in this guide will also provide some information on how to order from Luthiers or how to bargain in stores in the Middle East.
Women's Ouds
Luthiers also make custom women's size Ouds with a smaller bowl. There are also some factory made options for women size Ouds too. Details will be included under Oud Makers chapter.
Tunings
Turkish: low strings to high strings  C#F#BEad – EA BEad – DABEad – DGBEad
Arabic/Iraqi:     CFADgc – DGADgc – FADgcf
Iranian (Usually Five course) GADgc – FADgc – EADgc
Now that you know everything about Ouds… Click here to learn how to play!
Already know how to play, but looking for an extra edge? Sign up to receive a list of Navid's Top 5 Tools that will make you sound like a Pro. Click below.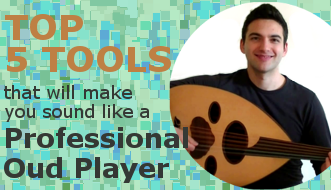 >>Move onto Part 2: Oud Makers to learn more about where to buy your next Oud! →