Learn Oud Online with Oud for Guitarists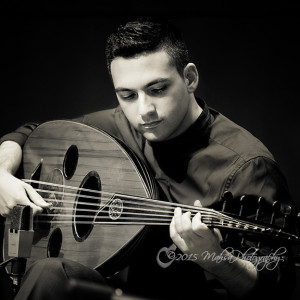 Have you fallen in love with the Oud?
Are you looking to buy an Oud right now?
Are you trying to teach yourself the Oud?
Whatever the case, you are in the right place!
At Oud for Guitarists, you'll be exposed to lots of resources that will give you an edge on your Oud education. We are candid about the Oud.
To learn Oud online is a huge undertaking, but it doesn't have to be impossible.
You will notice that we continuously update and add posts to help you become an educated Oud player. To get updates into your email inbox and a free Oud lesson, sign up for our newsletter! learn oud
About Oud for Guitarists Team 
Learn Oud
We are Navid Goldrick, a professional Middle Eastern Oud player, and Navid's sidekick and an Middle Eastern dancer, Mao Murakami.
Who is Navid Goldrick?
I'm a Persian musician that taught myself how to play Arabic Oud, and I am here to show you the tools so that you can teach yourself the Arabic Oud too.
I'm like you… I didn't grow up in the Middle East, and I have never been to Iran, but I managed to master Persian music in an authentic way. One day, I decided that Persian style Oud playing didn't satisfy my hunger for knowledge of the Oud, so I decided to teach myself Arabic music and Arabic Oud style.
If I can do it, you can too! Learn Oud online
When I wanted to buy my first Oud… I was about 14. It was 1997 and I had no connections to the Arab community or the Arab world. I didn't really know anything about the Oud except that I was in love with the sound, probably like you are now.
OudforGuitarists is here to help you find your first Oud, and help you teach yourself how to play. 
Why should you give OudforGuitarists Premium Courses a try?
As a musician, performer, and recording artist for the last 20 years, I know exactly what you're up against. I gained a lot of insight nurturing an eclectic musical background and came to the Oud after mastering the Persian Santour, learning the Guitar (Jimi Hendrix was and still is my Guitar Hero), and dabbling in Trombone.
You are going to gain my knowledge and secrets of how to play the Middle Eastern music on the Oud in an effective and authentic way.
Even though I took private lessons to learn Oud. There was still so much I had to figure out by myself. The Premium Courses that we offer are a culmination of my unique learning experiences packed with all the tools you need to learn Oud by yourself.
What do other people say about Oud for Guitarists?
As a guitar player looking to learn the oud, these lessons are a great help!  Patient and thorough, Navid offers insights into every aspect of oud playing. From the anatomy of the instrument to the complexities and nuances of middle-eastern music, Navid opens the doors for us and guides us knowingly through to the realm of understanding.
-André Hopfner (Vancouver, Canada)
Oud for Guitarists has one of the best ways of teaching I have come across
-Zachariah Luhman
And Oud for Guitarists was seen on

Why don't you join the growing community of Oud enthusiasts and see if Oud for Guitarists is for you?
Sign up for our newsletter!
Both Mao and I enjoy building relationships with the growing community of Oud and Middle Eastern music enthusiasts. Our primary goal through Oud for Guitarists is to reach out to musicians who grew up listening to Western music and one day encountered the Oud and Middle Eastern music. We realized how challenging it can be for some to find an Oud teacher or proper learning material. We're on a mission to help musicians like you fully enjoy the Oud and Middle Eastern music, the way it is supposed to be.
If you want to learn Oud online, get free tips, and stay abreast of all the developments at OudforGuitarists, all you have to do is enter your email below and click "sign up"!